Capricho [pronounced: ka-pre-cho] is a spanish word, meaning: craving, whim, or impulse. I recently learned this new vocabulary word with one of my third grade teachers in class. He described to me that the word "capricho", is something that you desire; or is unnecessary to have or purchase, but you still want it anyways. His examples were, his expensive car that he bought for himself, traveling, and other excessive items in his life. I must admit, this word may be one of my new favorite words in Spanish! So, to utilize this vocabulary word more, I am starting a new series of Travel "Caprichos"; destinations that I have been lusting after to visit.
My first travel capricho is definitely Rome, Italy. As the capital of Italy, this city boasts so much history, culture, and importance! I'm definitely lucky to say that I'll be visiting this breathtaking capital in July, when my family flies over to visit. I'll finally be able to experience real gelato, walk the streets of an incredibly historic city, and explore the landmarks and monuments of the gladiators. Of course, it's going to be hot in July, but what can you do?
Temperatures during the summer in the Mediterranean can range from 75°F to 86°F (in Celsius – 24°C to 30°C). If you're like me and constantly are cold, than this weather would be pretty perfect for walking around and exploring a new city. Also, while in Rome, there's so much to see! My excitement is definitely growing while I write out this post, and I am more than excited to discover a new place with my family, this time. Some attractions that are definitely on my list to see are the Colosseum, Arch of Constantine, the Pantheon, the Spanish Steps, the world famous Trevi Fountain, and of course Vatican City!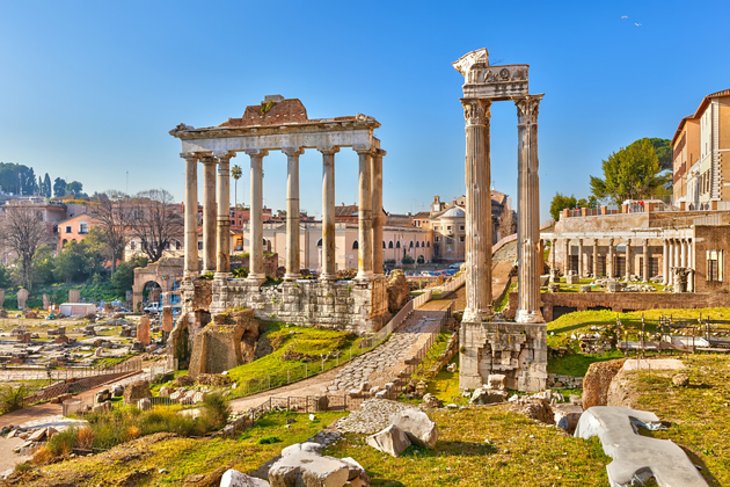 As for food, I'm ready to dive into gelato and all things pasta. I love having Spanish food all the time, but when a girl really wants authentic pasta, she wants authentic pasta! Some of the more famous dishes in this specific city are Spaghetti alla Carbonara, which is a pasta dish made with bacon, eggs, and pecorino (a hard sheep's cheese) and Carciofi alla romana, which is an artichoke dish, where they remove the outer leaves and stuff the artichokes with mint, garlic, and breadcrumbs, and then braise them. My mouth is watering, just thinking about the food I will be able to try in a few short months!
As for hotels, my family and I are looking to travel in "style"! Especially because it will be my parent's 25th Anniversary (wow)! There are many amazing hotels located in the center of Rome, but while researching some luxury hotels, I ran across one that really draws my attention. The First Luxury Art Hotel Roma Preferred Boutique Hotel is located in the center of Rome, in a quaint neighborhood called Campo Marzio. It's a bit on the pricier side for a post college graduate, living on a traveler's budget, but, the views from the rooftop terrace are magical and the artwork that adorns the building really puts you in the world of Ancient Rome!