Between my 12hr work weeks and switching between an institute and a primary school every other week, I have a lot of free time on my hands! Granted, a lot of those hours are spent walking to and from classes (yay to not having a car…), Instagramming (hello, serious case of #FOMO), and the occasional siesta… but, I told myself I'd dedicate a lot of my time to building my blog and my brand.
This summer, my friend, Laura Quintero, introduced me to a group of creatives called "The Rising Tide Society". The Rising Tide Society is a group of creatives expanding throughout the United States; made up of photographers, bloggers, hand letterers, event planners, creators, artists, etc. I started participating in more discussions about creativity, how to reach out to more people, and how to do something that you love and chase those dreams! The Rising Tide Society promotes #communityovercompetition by building with your fellow creatives to create a more meaningful connection and business. You can't imagine the type of inspiration and excitement I felt this entire summer, being able to talk "blogs" with fellow bloggers!
So, now to this NaNoWriMo Travel Blogging Challenge. I first heard about it through another fellow travel blogger, Kristina Perdida, who was an expat living in Madrid, but now resides in Texas. Her blog, led me to the creator of the challenge, Venga, Vale, Vamos, a travel blog written by Kirstie Jeffries, an expat who once lived in Spain, but now is blogging from Australia! Through this challenge, bloggers will attempt to write one blog post per day from November 1st to November 30th. Which means, I will attempt to write one blog post per day for the entire month of November!
As a participant in this challenge, I am challenging myself to:
Write at least one blog post every day, or to start blog posts, and finish them before the month of November ends
No excuses for not being able to blog or work on a blog post!!!
Become better at post planning, social media outlets, and brainstorming
Interact with other bloggers in the challenge, and in general, through the Facebook group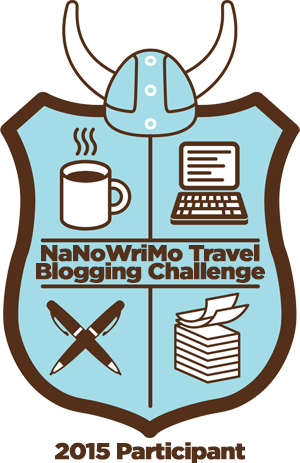 Goodluck to all the other bloggers participating in this challenge!! Any takers to join in on the November fun? If so, head over to Kirstie's blog and read a bit more information about the challenge and to join our Facebook group! (: You'll also get a neat little badge!
Happy writing, bloggers!