Raise your hand if you love reading about your Myers Briggs personality type.
Two hands up if you have taken it multiple times to see if you've gotten a different result.
Alright, two hands and shake your hips if you've ever taken those Buzzfeed quizzes to see what country you should move to based on your personality, which Horcrux from Harry Potter best represents your personality, or if you're more like Rachel, Monica, or Phoebe from "Friends".
If you aren't shaking your hips and have your hands in the air, I DON'T BELIEVE YOU!
Quizzes are a fun and dynamic way to connect and build an audience of clients and fans. Why? Because people love learning about themselves and making connections that way.
How can you build an audience of clients and fans using quizzes? Here's a simple guide to building your own quiz, through Interact, based on your brand in the tourism and hospitality industry:
What does your audience want to know about?
Your audience wants to learn more about themselves, what they should do, and how they should do it. If you tell them directly, chances are, they won't listen to you. But, if you SHOW them a way to do it, based on their "likes" and "dislikes" or who they are – they're all ears!
If you're in the tourism and hospitality industry, customer service is your main go-to. Whether you're creating experiences, guiding them to explore somewhere new, or offering them the best in town, it all starts with customer service and how you "take care of" your clients.
What parts of your service can you tie into what your audience wants to know about themselves or learn on their own?
For example, if I were a luxury resort hotel that is looking to increase sales in the hotel spa, I want my clients to learn about the spa services I offer. And some guests either know about your spa services or want to learn more about what they should get. Let's name some spa services that hotel guests might be interested in:
Couples massage
Hot stone massage
Seaweed body wrap
Facials
Manicure and Pedicure
READ:How To Use Your Copy and Photography to Connect With Your Ideal Audience
What connects with your audience on a personal level?
Continuing with the theme of a luxury resort hotel and their spa, how does this connect with your audience on a personal level? Although spa treatments are nice, most people won't be able to connect with them personally. What can a spa treatment do for them? How does this apply to their lives?
Interact has easy to edit templates that you can adapt to match what works for you and your business. Some of their quiz templates are based on personality type or brand niche. Once you select what type of brand niche you're in, you can then choose if you'd like to do an assessment, personality, or scored quiz.
PRO TIP: Personality quizzes are probably the most popular, becaue people LOVE learning about themselves and how they can connect to something.
After you've selected your personality quiz, now you can select a template that works best for your brand! All of these are customizable so that they are easy to edit, arrange, and add your own personal branded details.
The hardest part of creating a quiz, writing the questions and answers that your audience will feel excited and intrigued by. So connecting back to spa treatments – how can they make an impact on your ideal clients?
Here are a few sample questions that tie into their personality:
If you were stranded on a deserted island, what makes you feel more relaxed?
Pick the group of words that best describe your personality.
How would your family describe you under stress?
All of these are fun questions that can provide a specific result connected back to your services!
How can you show them the services they want/need?
This is easy – from the quiz results!!
Interact allows users to also customize quiz results and answers, mapping out which answers lead to which result, and helps you build your audience and fans. For example, after a quiz, Interact allows users to put in their email address to receive their result and a special message from you.
By collecting their email address, the platform integrates with whatever email subscription provider you use. For me, I use Mailchimp and have created specific funnels and triggers to send to all quiz takers, based on their specific result!
Going back to the spa treatments, a luxury resort hotel can use a quiz to introduce guests what treatment they REALLY need once they're on vacation. After gaining that lead and email address, brands and businesses can program automatic email funnels that will send emails about the specific service, a Call-to-Action (CTA) button that leads them to book, and a fun way for your audience to learn what works best for them.
It's all about the experience, right? If quiz results are unique and customized based on a person's personality, that's what makes them fun and engaging!
Grab access to The Quirky Pineapple Studio resource library and receive monthly love notes straight to your inbox!
[yikes-mailchimp form="1″ submit="Get access!"]
Final question – is it shareable and fun?
You know what I'm talking about. You see those viral quizzes ALL over your Facebook feed. People are sharing their results, asking their friends what they received, and if they can build a connection through similar or extremely contrasting answers.
Successful quizzes have a specific formula:
Something your audience wants to know + Fun and easy to share = SUCCESS!
By using Interact quizzes, it's easy to create, edit, and share your very own branded quiz! They can be integrated to mailing systems, easily shared through Facebook, and even allow you to create ads through their website. After creating a quiz, you can connect or embed it into your website for creating your email newsletter, add it to a blog post, or share the link onto your social media channels.
The more people who take your quiz – the better, right?
Have you used a quiz to build your community? Some simple tips you can use to start yours are:
Brainstorm what you want your audience to know (and what they want to learn about!)
What results can you show them
How can you bring them into your community even further?
How will it get shared?
I loved creating my own community building quiz, that not only gave my audience an insight into their strengths as a community builder but gave them even more information on how to use their strength!
Do you like using quizzes and have you used one before? You can get started with your own Interact quiz, here!
Want to learn how to use quizzes, create a funnel, and get people into your community? Schedule a free clarity call with me, so we can strategize the best way to use quizzes in your business!
*This post is sponsored by Interact – but I wouldn't be recommending them if I didn't use them before and love their interface! (: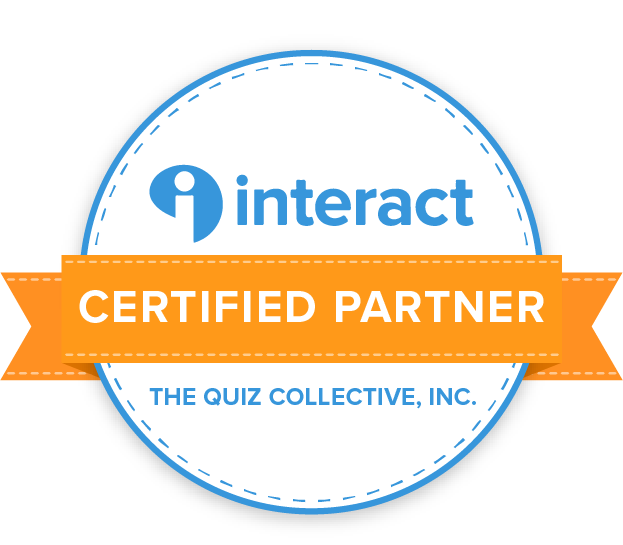 ---
Enjoyed this post? You might like these, too:
What's The Best Way to Build a Community?
5 Ways to Define Your Brand Personality
Do You Need To Invest In A Copywriter?
Writing Heartfelt Copy That Resonates
Join the Pineappler Family to receive updates, tips, and info once a month and receive immediate access to The Quirky Pineapple Studio resource library!
[yikes-mailchimp form="1″ submit="Join the family!"]