Market research isn't just a fancy-word that startups and big business giants spew. It's an organized effort to find information about your target markets, customers, and if an idea, product, or service is viable. This is an effective tool to use in business strategy that will help your revenue grow and increase profits.
So why do the words "market research" make people nervous, unsure, and stressed?
We figured out it's a few things:
You have to go out and ask people for their feedback
You have to be extremely clear on your offering and message so your audience doesn't get confused
And you have to be resilient in asking people for their opinion and using it to improve
It's no wonder that 61% of marketers say generating traffic and leads is their top challenge. (HubSpot, 2018) As a content marketing strategy agency, of course, we'd say the first step to generating traffic and leads is through content.
Want to set up a Content Marketing system that works for you, instead of you doing all the work? Download your FREE Content Generating Machine here!
And the best way to create content that your audience wants to consume is by using market research! In this post we'll share 5 different ways to do market research for your content.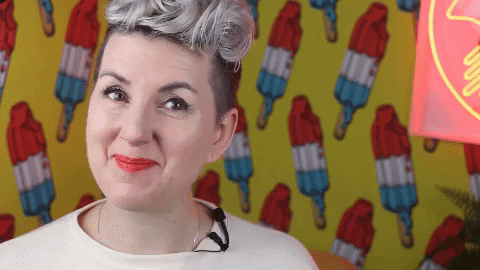 Types of market research to use for content
There are 5 (maybe even 6) types of market research you can use to understand what your audience wants to learn and is looking for.
PRO TIP: Having traffic is great, but ultimately you want conversions with your content… not just high traffic.
We break down how to conduct market research for your content using 5 different ways. Some of these will be more effective than others but having a mix of options for market research is best because your audience consumes your content in various forms and on different platforms.
1. Surveys
One of the "easier" ways to do market research is through a survey! You can use tools like Google Forms, Typeform, or Survey Monkey to send out a link to your audience and have them complete the survey. Most of these platforms are free and offer a variety of functions to give your audience options to choose from.
Always be sure to add to your surveys:
If they'd be willing to get on a call with you to discuss further, a place for them to leave their email
A variation of multiple-choice options, short answer, paragraph, and checkboxes to understand what your audience is looking for
Ask which type of content they prefer consuming (written, video, audio, etc.)
A great way to have people complete your survey is to send it out to your email newsletter (people who are already familiar with you) and ask them for a few minutes to complete it. You can sweeten the deal by adding that they could win a prize at random, as an incentive for filling it out.
2. Guerrilla marketing through social media
If you're active on social media, another great market research tool is guerrilla market research!
What are we talking about?
The term Guerrilla Marketing was popularized by Jay Conrad Levinson in 1984 (Source). According to Wikipedia, guerrilla marketing is…
Guerrilla marketing is an advertisement strategy in which a company uses surprise and/or unconventional interactions in order to promote a product or service. It is a type of publicity. The term was popularized by Jay Conrad Levinson's 1984 book Guerrilla Marketing.
This can be adapted to guerrilla market research! When you apply unconventional interactions to your audience on social media, you can gauge what they are more drawn to and engaged with.
For example, features on Instagram and Facebook like polls, questions, quizzes, lives, and more allow you to pop up and ask direct questions to your audience to understand them further and what they'd like to see from you!
Your challenge: Use more polls, quizzes, questions, and video content on social media to understand your audience and see what type of content they are searching for.
3. Calls
Our favorite way to conduct market research is by getting on calls with ideal clients. It's the best way to connect personally and have them face to face with you!
A few ways we've conducted calls are:
With past clients, we've considered our dream clients
With engaged audience members on social media (people who always share, comment, or like our posts)
With cold leads/strangers (this works, but sometimes doesn't generate the best results)
By mostly talking with past clients and engaged audience members (we'll call them brand ambassadors), it is much more comfortable and we've already built a relationship with them either by working together or on social media.
Some people might say it is important to get on the phone with cold leads/potential clients, but understanding what is already working in your content/marketing strategy by talking with past clients and brand ambassadors is equally as helpful.
By talking with people who are already familiar with The Quirky Pineapple Studio and our work in copywriting and content marketing strategy, we've learned…
What content drew them in and kept them within our network
What they liked most about working with us (so we can keep doing it)
Where they found that we excelled (so we can write more about it)
What part of OUR business story resonated with them
And we have been able to ask why they've invested in us and why they haven't (so we can create different products/services at various price points for our community)
4. Reviewing data
Let's talk COLD. HARD. FACTS.
AKA – the data! Data can be made up of:
How many leads you brought in and where they came from
Your newsletter open rate
What your reach was on Instagram
How many page views you received on your website
To what platform brought in the most leads and the most revenue
For example, The Quirky Pineapple Studio's biggest lead generator is Instagram. After reviewing our numbers and leads converted to clients, practically 50% of our 2019 clients found us on Instagram. The other 50% came from meeting us at an in-person event!
Now that we know where the majority of our leads come from, we know that data from Instagram is important. We track things like:
Our engagement rate
What posts perform the highest
What posts were saved and shared the most
The stories we post and their watch rate
From there we can see what the data reveals and the type of content that really resonates with our audience and converts them!
PRO TIP: Content marketing is a long-form game. It requires you to be consistent, constantly making tweaks, and understanding what works and doesn't!
5. Keyword research
Content marketing isn't just about social media, email newsletters, and viral videos. We believe that written content is still one of the most important pieces of content there is! This means researching keywords for your content is equally as important.
One in ten blog posts are compounding, meaning organic search increases their traffic over time. (HubSpot, 2016)
You can use tools like:
To help you find what keywords fit within your niche, industry, and business. You can start creating a list of keywords (long and short form) to include in your content to attract the types of clients that are already looking for your products or services!
Want to start ranking on Google and reaching more clients through SEO and content? Enroll in our course today!
Bonus: Research content trends
Another way to do market research for your content is by researching content trends! We aren't saying to *follow* all the content marketing trends that pop up… (hello, TikTok, we're looking at you).
One way to see what your audience is interested in learning and what they're actually searching for is to research top trends within your niche and industry. For example, Pinterest creates a trend report each year with what they see on their platform.
When you research inspiring and hot trends for the upcoming year or next few months, you can get ahead of the content game and start ranking for keywords that WILL be searched later on. This little secret can keep you anticipating your audience's needs early, then converting them sooner!
Final thoughts on using these types of market research for better content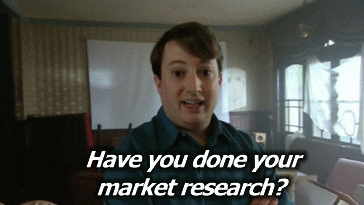 Content marketing is not a "guess" and "create" type of marketing strategy. A content marketing strategy involves:
Data
Understanding your audience
Knowing what your fierce factor (USP) is
And being able to anticipate your audience's needs early on so they will find your business, trust you, and ultimately convert into a client
Content marketing gets three times more leads than paid search advertising. (Content Marketing Institute, 2017)
When you approach content marketing, you also need to do the market research to create the strategy behind it. To recap, here's how you can do market research for your content to convert:
Surveys
Guerrilla marketing through social media
Calls
Reviewing data
Keyword search
Researching trends
What's your favorite way to do market research? Let us know in the comments!
Want additional support? We'd love to help you through Visibility Mentoring! Schedule a Clarity Call to learn how we can help you through market research, creating a content marketing strategy, and the content you share!
---
Enjoyed this post? You might like these, too:
How to Optimize a Post for SEO without Sounding Like a Robot
How to Plan Your Content Strategy for More Visibility
Writing Accessible Web Copy and Content
How to Grow Your Business with an Editorial Calendar

Want more content goodness? DOWNLOAD your very own Content Generating Machine to help you go from idea, to content, to community, and clients!